Luxury Style Origin Bi-Fold Doors in Cardiff and Surrounding Areas
You can completely transform your home with the use of Origin bi-fold doors that can add elegance and a sense of grandeur to your Cardiff home. Using bi-fold doors you can open up your home to incorporate your garden space, sliding them open to invite the outdoors inside.
At Inspire Windows, we have a wealth of expertise in the installation of Origin bi-fold doors. We can assist you in creating the most incredible focal point in your home, adding modern style and great value.
Unrivalled Origin Bi-Fold Doors Quality
We are proud of the quality of our aluminium bi-fold doors. We only work with the very best profiles, supplied by Origin. Our Origin bi-fold doors are exceptional, featuring innovative technology and the very best double glazing standards offering a superior quality and excellent thermal efficiency.
Our Origin bifolds also provide high performance functionality and security, making them a popular home improvement option.
The natural strength that the high grade aluminium provides gives you peace of mind about the security of your Cardiff property. Our advanced security hardware including an 8 point locking mechanism with chamfered 20mm linear bolts and deep throw 25mm security hooks, means you never have to question the security of your Origin bi-fold doors.
Family Friendly Origin Bi-Fold Doors
Our Origin bi-fold doors are made for families, keeping your Cardiff property protected. Inbuilt into your doors are finger safe gaskets to prevent any accidents from happening making the space safe for all of the family.
Our Origin bi-fold doors offer easy access into and out of the property, with a unique free-glide roller system. You can choose ultra-low or even recessed thresholds so that your garden is easy to access. All it requires is a gentle push to open up the doors in a smooth and gentle manner.
We understand that every homeowner in Cardiff will want different specifications to make sure that the Origin bi-fold doors match their taste and personal style. We offer a full range of customisation options to make sure that your aluminium bi-fold doors exceed your expectations.
You can select how many panels you need for an ideal opening configuration and you can select whether your concertina doors open from left to right or vice versa. It's completely up to you.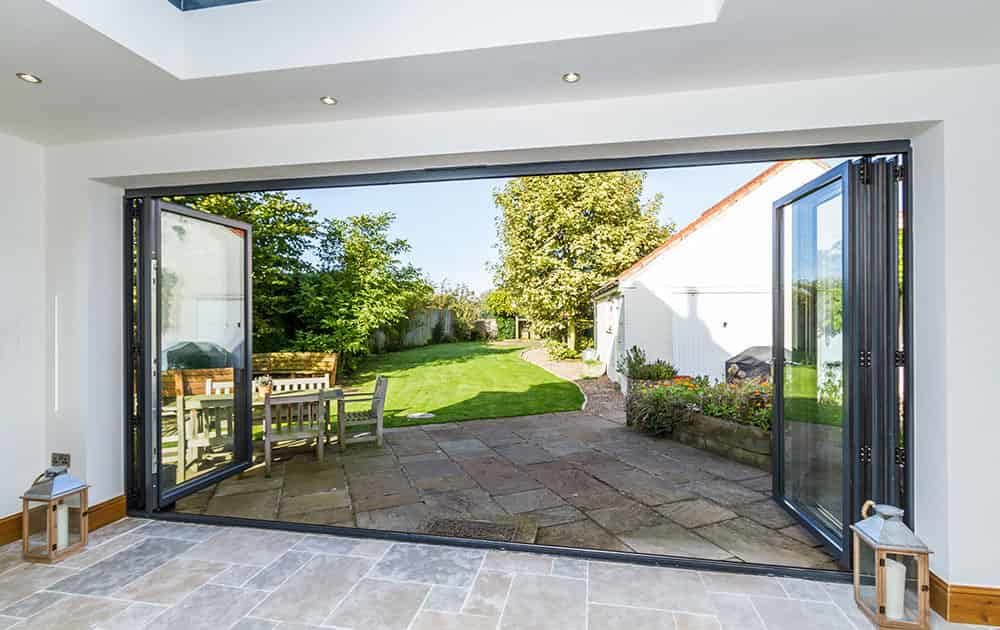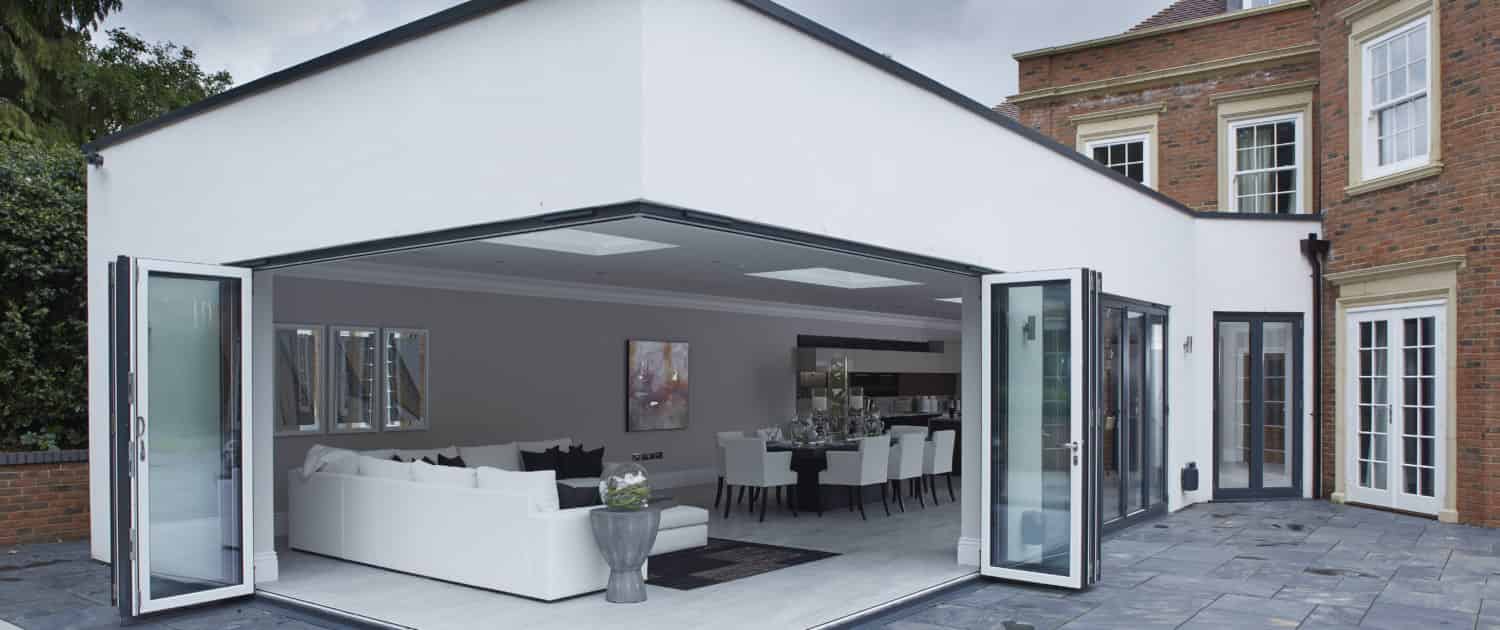 A Variety of Finishes for your Origin Bi-Fold Doors
We have a variety of finishes to choose from, to complement your individual taste and style. Our colour palette is extensive and gives you a number of options to choose from.
If you'd like, you can select one shade of colour for the exterior profile to blend in with your architecture and brickwork and then select a secondary colour for the inside frame that will suit the interior of your Cardiff property.
There are over 150 RAL colours to choose from as well as 4 woodgrain finishes so you can be sure that your aluminium bi-fold doors will look exactly how you expected them to. They provide a luxury style to all of our homeowners in Cardiff and the surrounding areas.
Origin Aluminium Bi-Fold Doors Prices in Cardiff
Get in contact with us and our team of experts can discuss your Origin bi-fold door needs in Cardiff. We offer an excellent range, meeting the most impressive standards, and we would love to help you find the best composite door to match your Cardiff property.
If you prefer to get an instant quote, our online designers let you create your ideal composite door and find out how much it will cost. Take a look and see our competitive prices for our Cardiff customers.
Start Your Origin Bi-Fold Door Quote
Aluminium Bi-Fold Door Video