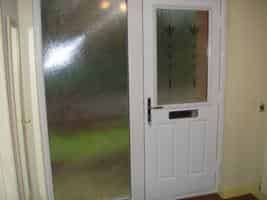 It's that time of year again where double glazing companies are offering 55% off their prices along with lots of free extras, the majority of us understand that these massive discounts are not realistic. Although there is higher competition in January for window and door installers, a reasonable discount is 5% to 10% for any company that offers genuine prices during the rest of the year.
All window companies want to keep their fitters working so there is always a little room to negotiate in January. The problem is what to do, when everyone tells you their windows and doors are the best, but the prices vary massively?
Take a few moments to consider which window you preferred the look of; after all it is your family that will be looking through them every day for the next 10 to 15 years. Did one of the frames suit your home more, did it feel sturdier and were the handles easier to operate?
Many window profiles now offer the same standards; A rating, argon gas filled with low e coated glass and secured by design status. However there are a few important factors that could make you question that suspiciously cheap double glazing quote. Here is our checklist for ensuring a quality installation;
Glass- The glass should have a low e coating on the outside, argon or krypton gas filled and Planitherm or similar coating on the internal face. This will reduce condensation on the window and help to keep the heat inside your home.
Locks and hinges- Are there a sufficient amount of locks and are they from a reputable manufacturer. We use Mila locks, handles and hinges on our doors and windows which have won the G awards for 2 years. Good quality ancillaries can be considerably more expensive than their cheaper rivals.
Manufacturing – A window profile is nothing until it is actually put together by the manufacturer. How long has the manufacturer been making this profile, how often are there problems with the windows or doors?
Finishing – Finishing off a window with trims or plastering is one of the most time consuming parts of fitting a window. Any company that takes time and care will need to charge a little more to allow for this. Ideally your windows should be sealed internally with stelmax instead of silicone which should not discolour or go mouldy.
The fitting team- Do they have the required experience and are they actually employed by the company on a daily rate? Some window fitters work on a price rate of how many frames they can fit in a day, we would prefer our installers to fit 4 windows perfectly rather than 7 badly. As with every industry, it costs more to employ good staff than it does bad ones.
The guarantee- Is the guarantee transferrable if you sell your home and does it cover everything. Many companies only cover the glass, locks and handles for 1 year, we cover everything that we fit for the full 10 years.
The company – To the frustration of the double glazing industry there are still people out there who will offer a fantastic price but have no plans of being around in 5 years time when you may need them. It costs money to run a business professionally and pay your staff well; this will generally be reflected in the quote that you receive.
Of course there are situations when as a customer you will have a limited budget and just pick the cheapest quote. Don't be afraid to ask for the job to be split into two parts so you can have better quality windows and doors without the big outlay. We very often fit the front of a house and then return when the customer is ready to complete the back. You, the customer are happy and as a business we know we have work for the future.
Take another look at your double glazing quotes and consider which one actually offers the best value for money. Ask each company if you can have an address where they have fitted windows in the last couple of months and a year or two ago, this way you can see the quality of fitting recently and ascertain how the frames have weathered.
If you are still feeling confused, there are many forums where tradesmen will give an impartial view on the best frames and fitting techniques, one of the better ones is my builder.com. Having a little more knowledge can give you the confidence to hand your hard earned money over to the right people.
https://inspirewindows.co.uk/wp-content/uploads/2016/07/Inspire-Logo-300x137.png
0
0
Rachael
https://inspirewindows.co.uk/wp-content/uploads/2016/07/Inspire-Logo-300x137.png
Rachael
2016-08-09 14:27:10
2021-08-02 11:28:20
Cardiff Double Glazing Prices, why do they vary so much?