There are many ways to enhance the look of new upvc windows if you want something a little different or to replicate your existing windows. We take a look at some of the various options when choosing your double glazing, along with examples of windows that we have fitted throughout Cardiff and South Wales
Leaded glass
Leaded glass can be fitted in just the top of the windows (fanlights) or in the entire window depending on the customers preference. Many people choose to have it fitted in the fanlights as it enhances the window without obscuring the view through the main pane of glass. Leaded glass generally adds around £50 per square metre to the cost of your new windows.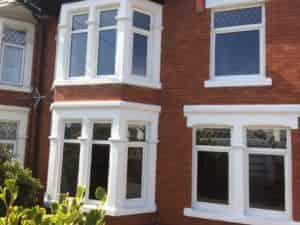 Astragal Bars
Astragal bars are added to the window to give the look of original glazing bars that would each house a separate pane of glass. They are fitted to the window and stand proud of the glass, a back to back spacer is fitted to the inside of the glass. These can be fitted in a variety of patterns with either a single vertical bar for a minimal look or a grid pattern to replicate original georgian windows. Astragal bars can be around 20 to 30% more expensive than standard windows.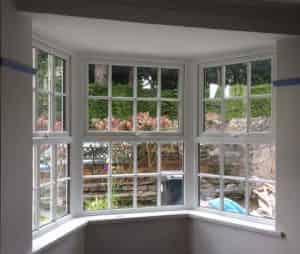 Georgian bars
Georgian bars are fitted to the inside of the double glazed unit, they are more cost effective version of astragal bars. Georgian bars can also be fitted in a variety of patterns and are available in a choice of colours to match the chosen window. Georgian bars generally cost around an extra £40 to £50 a square metre depending on the colour. Below is an example of irish oak windows with colour matched georgian bars.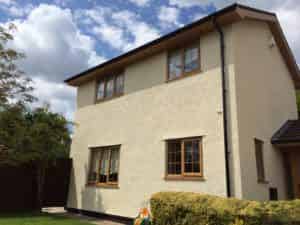 Stained Glass
When deciding on stained glass for your windows, there are two choices. If you have existing stained glass in your windows we can remove it, clean, restore it and reglaze it into new double glazed units. Alternatively we can copy an original or bespoke pattern and replicate it into your new windows. Colours can be matched exactly to give you the most authentic look possible. We also have standard stained glass designs that can be chosen if you don't have any special requirements.
Stained glass prices vary depending on the size of the window, for a simple stained glass fanlight the additional price would be around £30 to £50 per fanlight to replicate a pattern. Original stained glass that is being reglazed can vary tremendously depending on the size and condition of the glass. Below is an example of original stained glass fitted into a rosewood upcv window and a door fitted with replicated stained glass effect.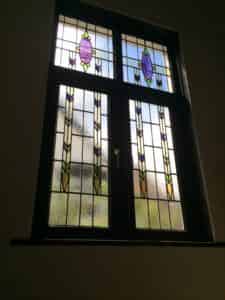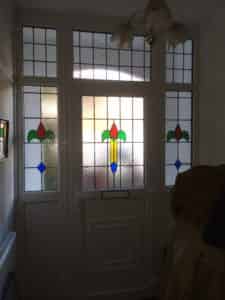 Bevelled Glass
Bevelled glass involves adding a raised design to the glass, it gives an eleant look to panes of glass and is popular in fanlights, doors and conservatories. Bevelled glass tens to catch the light and can offer a very bespoke look to your upvc windows and doors. Bevelled glass is generally priced at around £60 to £80 per fanlight.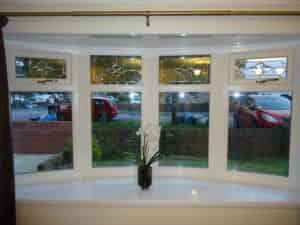 At Inspire Windows we have a great deal of experience in fitting many different decorative options to our windows. When fitting new Upvc windows, is is important that they are both designed and fitted well. Consideration needs to be made into the layout of georgian bars or leaded glass to match neighbouring properties. Care an attention must be given when renovating original stained glass which can be hundreds of years old.
For a quote or more information, please give us a call on 02920 734573 or take a look at more of our work on our facebook page
https://inspirewindows.co.uk/wp-content/uploads/2016/07/Inspire-Logo-300x137.png
0
0
Rachael
https://inspirewindows.co.uk/wp-content/uploads/2016/07/Inspire-Logo-300x137.png
Rachael
2016-08-09 16:02:24
2021-06-04 16:59:22
Stained glass and Decorative options with Upvc windows