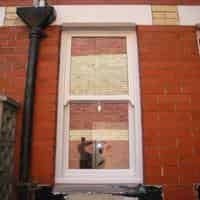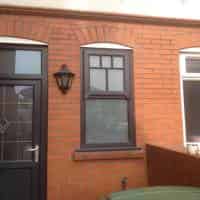 Wooden sash windows can be found in many homes throughout Cardiff and South Wales, they add to the integrity of the house and its surrounding area. Along with wooden floorboards, original fireplaces and decorative cornices; sash windows are one of the features that potential buyers are willing to pay more for.
But what happens when your beautiful windows are causing cold draughts and increasing your energy bills; time for an expensive renovation project?
Depending on whether your home is in a conservation area, you will have no choice but to replace your sash windows with like for like, either in upvc or wood. Many people are cautious about using upvc windows but there has been a great deal of improvement in the aesthetics of modern double glazed sash windows as well as the improved energy efficiency that these products offer. Vertical sliding sash windows now come in an array of colours that can offer a more sympathetic look to your home.
From a planning perspective the planners are interested in every detail of the window, a few points taken from Cardiff Council that you should consider when looking for quotes;
Section Dimensions
The size of timber sections in the new windows should match those of the original. This is
particularly important for the bottom rail of the lower sash which should generally be deeper
than the meeting rail on elevation when the window is closed. The visible part of the sash stile,
top rail and meeting rail should be of a similar width and depth.
Operation
Sashes close vertically and can be operated by sash weights or spiral spring balances. Spring
balances are unlikely to be acceptable if they replace box sashes on a listed building. It is
sometimes possible to fit hinges which can also allow a sash to open inwards for cleaning.
Glazing
If a double glazed unit creates a substantial alteration in window size and dimension from the original, it is unlikely to be acceptable. It is usually impossible to install double glazed units in existing frames or to replicate existing frames with new sealed units without making drastic changes to the shape or proportions of glazing bars. Slimline double glazed units (3-10mm cavity) are now available that have much lower profile perimeter seals within the cavities.
This in turn allows for more slender sash frame dimensions. The use of highly insulating gases means that the energy savings offered by such units is comparable to standard double glazing (16-20mm cavity). Where the original windows have glazing bars, the new ones should match the original, particularly in multiple pane sashes.
Sashes with horns
Sash windows may have horns. These are additions to the lower part of the sash which enhance a window's rigidity. Georgian and early Victorian windows rarely have horns but later Victorian and Edwardian sash with horns are common in Cardiff and often have decorative qualities that can be replicated in timber.
If your home is not in a conservation area, but you currently have sash windows, an increasingly popular option is to have casement windows with run through sash horns. An average upvc sash window will cost you upwards of £600 each for a reasonable quality product. A casement window with an equal split top opening sash and run through sash horns will cost from £400 upwards, quite a saving if you need to change all of your windows. The anthracite window shows a casement in this style.
To add to the traditional look, the addition of internal Georgian bars or external astragal bars is common in these styles of window.
If changing all of your windows and doors at one time is too expensive, why not consider replacing the front of the house first. We can advise you on the best options to suit your home and budget, call us on 02920 734573 or build your own online quote www.inspirewindows.co.uk.
https://inspirewindows.co.uk/wp-content/uploads/2016/07/Inspire-Logo-300x137.png
0
0
Rachael
https://inspirewindows.co.uk/wp-content/uploads/2016/07/Inspire-Logo-300x137.png
Rachael
2016-08-09 14:14:11
2016-08-09 14:14:11
Double Glazed Sash Windows in Cardiff, Newport and South Wales